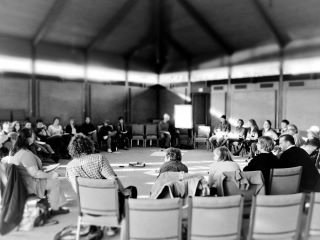 Meeting of the Occupy Seattle Non-Violence Group.
Photo by David Lang.
In hopes of avoiding a showdown between Seattle protesters and police over the eviction notice, I wrote and circulated this letter on December 6,
May Calm Hearts and Minds Prevail
.
Occupy Seattle Non-Violence Group
states that "In solidarity with the global Occupy Movement, we are committed to advocating and promoting the principles and practices of nonviolence in pursuit of a just and sustainable world."
Occupyseattle.org
does an impressive job of keeping and posting very detailed minutes from the daily general assembly (GA) meeting. These meetings are open to everyone. Go experience the human mic and see how this unique form of direct democracy is growing and evolving. Check the website's calendar for times and locations for meetings, workshops, and trainings.
The
Occupy Seattle Meditation Group
Facebook page lists daily meditation times. The page is also a great way to connect with folks committed to helping keep the Seattle movement peaceful. Members discuss de-escalation trainings, peace-building workshop opportunities, and emerging needs in the community.
The Occupy Sanctuary
--Occupy Seattle's Interfaith Chapel-- is both a physical space and a website. They list yoga, meditation, trainings, and interfaith services on their calendar. They also host a Facebook page
Occupy Chaplains Seattle
.
In her
Seattle Education blog
, Dora Taylor keeps Seattle folks informed about how our public schools are being impacted by the national corporate reform / privatization agenda and how this connects with the Occupy movement.
Social Equity Educators (SEE)
is an impressive group of teachers who, in addition to teaching full-time, organize creative rallies, marches and teach-ins to draw attention to equity issues in schools. This
video
leads with Jesse Hegopian, SEE organizer and Garfield High School teacher, "Banks got bailed out, we got sold out." This
newsclip
shows teachers rallying on October 29 and includes an interview with my friend Rebecca Rutzick.